Showing posts tagged with: mariage de destination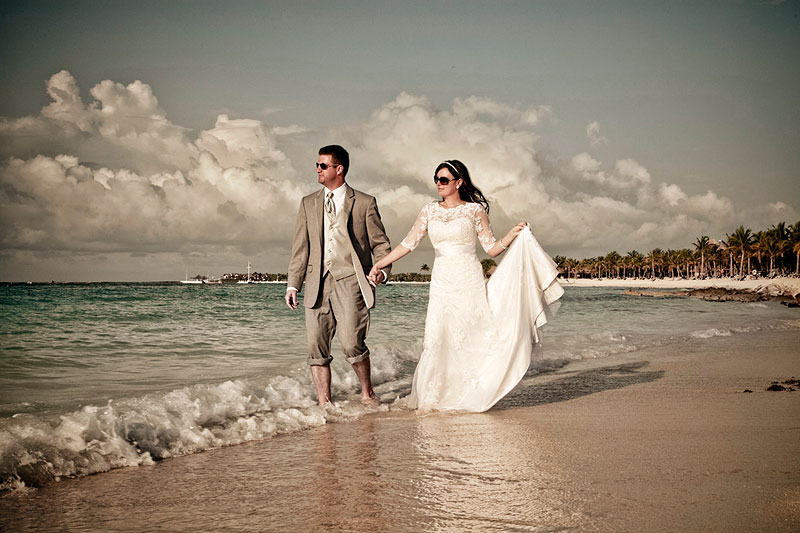 06
Juin
Warning: getimagesize(): http:// wrapper is disabled in the server configuration by allow_url_fopen=0 on line 445 in file /home/mariaged/public_html/wp-content/plugins/page-flip-image-gallery/functions.class.php
Warning: getimagesize(http://stephane-lariviere.com/wp-content/pageflip/images/i_vwpovQG1.jpg): failed to open stream: no suitable wrapper could be found on line 445 in file /home/mariaged/public_html/wp-content/plugins/page-flip-image-gallery/functions.class.php
Warning: getimagesize(): http:// wrapper is disabled in the server configuration by allow_url_fopen=0 on line 445 in file /home/mariaged/public_html/wp-content/plugins/page-flip-image-gallery/functions.class.php
Warning: getimagesize(http://stephane-lariviere.com/wp-content/pageflip/images/i_2C6DkeRybh.jpg): failed to open stream: no suitable wrapper could be found on line 445 in file /home/mariaged/public_html/wp-content/plugins/page-flip-image-gallery/functions.class.php
Warning: getimagesize(): http:// wrapper is disabled in the server configuration by allow_url_fopen=0 on line 445 in file /home/mariaged/public_html/wp-content/plugins/page-flip-image-gallery/functions.class.php
Warning: getimagesize(http://stephane-lariviere.com/wp-content/pageflip/images/i_wS12Pcv.jpg): failed to open stream: no suitable wrapper could be found on line 445 in file /home/mariaged/public_html/wp-content/plugins/page-flip-image-gallery/functions.class.php
Warning: getimagesize(): http:// wrapper is disabled in the server configuration by allow_url_fopen=0 on line 445 in file /home/mariaged/public_html/wp-content/plugins/page-flip-image-gallery/functions.class.php
Warning: getimagesize(http://stephane-lariviere.com/wp-content/pageflip/images/i_Q5Egh9KiIJ.jpg): failed to open stream: no suitable wrapper could be found on line 445 in file /home/mariaged/public_html/wp-content/plugins/page-flip-image-gallery/functions.class.php
Warning: getimagesize(): http:// wrapper is disabled in the server configuration by allow_url_fopen=0 on line 445 in file /home/mariaged/public_html/wp-content/plugins/page-flip-image-gallery/functions.class.php
Warning: getimagesize(http://stephane-lariviere.com/wp-content/pageflip/images/i_tdhmwu7l7aV.jpg): failed to open stream: no suitable wrapper could be found on line 445 in file /home/mariaged/public_html/wp-content/plugins/page-flip-image-gallery/functions.class.php
Warning: getimagesize(): http:// wrapper is disabled in the server configuration by allow_url_fopen=0 on line 445 in file /home/mariaged/public_html/wp-content/plugins/page-flip-image-gallery/functions.class.php
Warning: getimagesize(http://stephane-lariviere.com/wp-content/pageflip/images/i_mR5ImXOusmZx.jpg): failed to open stream: no suitable wrapper could be found on line 445 in file /home/mariaged/public_html/wp-content/plugins/page-flip-image-gallery/functions.class.php
Warning: getimagesize(): http:// wrapper is disabled in the server configuration by allow_url_fopen=0 on line 445 in file /home/mariaged/public_html/wp-content/plugins/page-flip-image-gallery/functions.class.php
Warning: getimagesize(http://stephane-lariviere.com/wp-content/pageflip/images/i_4W7FV7zD.jpg): failed to open stream: no suitable wrapper could be found on line 445 in file /home/mariaged/public_html/wp-content/plugins/page-flip-image-gallery/functions.class.php
Warning: getimagesize(): http:// wrapper is disabled in the server configuration by allow_url_fopen=0 on line 445 in file /home/mariaged/public_html/wp-content/plugins/page-flip-image-gallery/functions.class.php
Warning: getimagesize(http://stephane-lariviere.com/wp-content/pageflip/images/i_wX9Mv8gRVVC.jpg): failed to open stream: no suitable wrapper could be found on line 445 in file /home/mariaged/public_html/wp-content/plugins/page-flip-image-gallery/functions.class.php
Warning: getimagesize(): http:// wrapper is disabled in the server configuration by allow_url_fopen=0 on line 445 in file /home/mariaged/public_html/wp-content/plugins/page-flip-image-gallery/functions.class.php
Warning: getimagesize(http://stephane-lariviere.com/wp-content/pageflip/images/i_9dkfVHOKe1.jpg): failed to open stream: no suitable wrapper could be found on line 445 in file /home/mariaged/public_html/wp-content/plugins/page-flip-image-gallery/functions.class.php
Warning: getimagesize(): http:// wrapper is disabled in the server configuration by allow_url_fopen=0 on line 445 in file /home/mariaged/public_html/wp-content/plugins/page-flip-image-gallery/functions.class.php
Warning: getimagesize(http://stephane-lariviere.com/wp-content/pageflip/images/i_yyGQ5cbA3L.jpg): failed to open stream: no suitable wrapper could be found on line 445 in file /home/mariaged/public_html/wp-content/plugins/page-flip-image-gallery/functions.class.php
Warning: getimagesize(): http:// wrapper is disabled in the server configuration by allow_url_fopen=0 on line 445 in file /home/mariaged/public_html/wp-content/plugins/page-flip-image-gallery/functions.class.php
Warning: getimagesize(http://stephane-lariviere.com/wp-content/pageflip/images/i_ZvDZE8PadY.jpg): failed to open stream: no suitable wrapper could be found on line 445 in file /home/mariaged/public_html/wp-content/plugins/page-flip-image-gallery/functions.class.php
Warning: getimagesize(): http:// wrapper is disabled in the server configuration by allow_url_fopen=0 on line 445 in file /home/mariaged/public_html/wp-content/plugins/page-flip-image-gallery/functions.class.php
Warning: getimagesize(http://stephane-lariviere.com/wp-content/pageflip/images/i_ZiHeJm8.jpg): failed to open stream: no suitable wrapper could be found on line 445 in file /home/mariaged/public_html/wp-content/plugins/page-flip-image-gallery/functions.class.php
Warning: getimagesize(): http:// wrapper is disabled in the server configuration by allow_url_fopen=0 on line 445 in file /home/mariaged/public_html/wp-content/plugins/page-flip-image-gallery/functions.class.php
Warning: getimagesize(http://stephane-lariviere.com/wp-content/pageflip/images/i_FWZAYQBhew.jpg): failed to open stream: no suitable wrapper could be found on line 445 in file /home/mariaged/public_html/wp-content/plugins/page-flip-image-gallery/functions.class.php
Warning: getimagesize(): http:// wrapper is disabled in the server configuration by allow_url_fopen=0 on line 445 in file /home/mariaged/public_html/wp-content/plugins/page-flip-image-gallery/functions.class.php
Warning: getimagesize(http://stephane-lariviere.com/wp-content/pageflip/images/i_Huv6DhyWPU39.jpg): failed to open stream: no suitable wrapper could be found on line 445 in file /home/mariaged/public_html/wp-content/plugins/page-flip-image-gallery/functions.class.php
Warning: getimagesize(): http:// wrapper is disabled in the server configuration by allow_url_fopen=0 on line 445 in file /home/mariaged/public_html/wp-content/plugins/page-flip-image-gallery/functions.class.php
Warning: getimagesize(http://stephane-lariviere.com/wp-content/pageflip/images/i_jGxNjnY3Nee.jpg): failed to open stream: no suitable wrapper could be found on line 445 in file /home/mariaged/public_html/wp-content/plugins/page-flip-image-gallery/functions.class.php
Warning: getimagesize(): http:// wrapper is disabled in the server configuration by allow_url_fopen=0 on line 445 in file /home/mariaged/public_html/wp-content/plugins/page-flip-image-gallery/functions.class.php
Warning: getimagesize(http://stephane-lariviere.com/wp-content/pageflip/images/i_wZKQxdxg9v.jpg): failed to open stream: no suitable wrapper could be found on line 445 in file /home/mariaged/public_html/wp-content/plugins/page-flip-image-gallery/functions.class.php
Warning: getimagesize(): http:// wrapper is disabled in the server configuration by allow_url_fopen=0 on line 445 in file /home/mariaged/public_html/wp-content/plugins/page-flip-image-gallery/functions.class.php
Warning: getimagesize(http://stephane-lariviere.com/wp-content/pageflip/images/i_UTAzJbeyX.jpg): failed to open stream: no suitable wrapper could be found on line 445 in file /home/mariaged/public_html/wp-content/plugins/page-flip-image-gallery/functions.class.php
Warning: getimagesize(): http:// wrapper is disabled in the server configuration by allow_url_fopen=0 on line 445 in file /home/mariaged/public_html/wp-content/plugins/page-flip-image-gallery/functions.class.php
Warning: getimagesize(http://stephane-lariviere.com/wp-content/pageflip/images/i_GjbWFHSLFp.jpg): failed to open stream: no suitable wrapper could be found on line 445 in file /home/mariaged/public_html/wp-content/plugins/page-flip-image-gallery/functions.class.php
Warning: getimagesize(): http:// wrapper is disabled in the server configuration by allow_url_fopen=0 on line 445 in file /home/mariaged/public_html/wp-content/plugins/page-flip-image-gallery/functions.class.php
Warning: getimagesize(http://stephane-lariviere.com/wp-content/pageflip/images/i_9fhTGyoVH.jpg): failed to open stream: no suitable wrapper could be found on line 445 in file /home/mariaged/public_html/wp-content/plugins/page-flip-image-gallery/functions.class.php
Warning: getimagesize(): http:// wrapper is disabled in the server configuration by allow_url_fopen=0 on line 445 in file /home/mariaged/public_html/wp-content/plugins/page-flip-image-gallery/functions.class.php
Warning: getimagesize(http://stephane-lariviere.com/wp-content/pageflip/images/i_aUdtvquSEu.jpg): failed to open stream: no suitable wrapper could be found on line 445 in file /home/mariaged/public_html/wp-content/plugins/page-flip-image-gallery/functions.class.php
Warning: getimagesize(): http:// wrapper is disabled in the server configuration by allow_url_fopen=0 on line 445 in file /home/mariaged/public_html/wp-content/plugins/page-flip-image-gallery/functions.class.php
Warning: getimagesize(http://stephane-lariviere.com/wp-content/pageflip/images/i_JEXldNr.jpg): failed to open stream: no suitable wrapper could be found on line 445 in file /home/mariaged/public_html/wp-content/plugins/page-flip-image-gallery/functions.class.php
Warning: getimagesize(): http:// wrapper is disabled in the server configuration by allow_url_fopen=0 on line 445 in file /home/mariaged/public_html/wp-content/plugins/page-flip-image-gallery/functions.class.php
Warning: getimagesize(http://stephane-lariviere.com/wp-content/pageflip/images/i_mKD4wjZNDSy.jpg): failed to open stream: no suitable wrapper could be found on line 445 in file /home/mariaged/public_html/wp-content/plugins/page-flip-image-gallery/functions.class.php
Warning: getimagesize(): http:// wrapper is disabled in the server configuration by allow_url_fopen=0 on line 445 in file /home/mariaged/public_html/wp-content/plugins/page-flip-image-gallery/functions.class.php
Warning: getimagesize(http://stephane-lariviere.com/wp-content/pageflip/images/i_IUm4avMB.jpg): failed to open stream: no suitable wrapper could be found on line 445 in file /home/mariaged/public_html/wp-content/plugins/page-flip-image-gallery/functions.class.php
Warning: getimagesize(): http:// wrapper is disabled in the server configuration by allow_url_fopen=0 on line 445 in file /home/mariaged/public_html/wp-content/plugins/page-flip-image-gallery/functions.class.php
Warning: getimagesize(http://stephane-lariviere.com/wp-content/pageflip/images/i_bqBzIBhjPB.jpg): failed to open stream: no suitable wrapper could be found on line 445 in file /home/mariaged/public_html/wp-content/plugins/page-flip-image-gallery/functions.class.php
Warning: getimagesize(): http:// wrapper is disabled in the server configuration by allow_url_fopen=0 on line 445 in file /home/mariaged/public_html/wp-content/plugins/page-flip-image-gallery/functions.class.php
Warning: getimagesize(http://stephane-lariviere.com/wp-content/pageflip/images/i_ET9yba0.jpg): failed to open stream: no suitable wrapper could be found on line 445 in file /home/mariaged/public_html/wp-content/plugins/page-flip-image-gallery/functions.class.php
Warning: getimagesize(): http:// wrapper is disabled in the server configuration by allow_url_fopen=0 on line 445 in file /home/mariaged/public_html/wp-content/plugins/page-flip-image-gallery/functions.class.php
Warning: getimagesize(http://stephane-lariviere.com/wp-content/pageflip/images/i_xzJi9K.jpg): failed to open stream: no suitable wrapper could be found on line 445 in file /home/mariaged/public_html/wp-content/plugins/page-flip-image-gallery/functions.class.php
Warning: getimagesize(): http:// wrapper is disabled in the server configuration by allow_url_fopen=0 on line 445 in file /home/mariaged/public_html/wp-content/plugins/page-flip-image-gallery/functions.class.php
Warning: getimagesize(http://stephane-lariviere.com/wp-content/pageflip/images/i_iVjAUapSD4h.jpg): failed to open stream: no suitable wrapper could be found on line 445 in file /home/mariaged/public_html/wp-content/plugins/page-flip-image-gallery/functions.class.php
Warning: getimagesize(): http:// wrapper is disabled in the server configuration by allow_url_fopen=0 on line 445 in file /home/mariaged/public_html/wp-content/plugins/page-flip-image-gallery/functions.class.php
Warning: getimagesize(http://stephane-lariviere.com/wp-content/pageflip/images/i_gFILxj2hh.jpg): failed to open stream: no suitable wrapper could be found on line 445 in file /home/mariaged/public_html/wp-content/plugins/page-flip-image-gallery/functions.class.php
Warning: getimagesize(): http:// wrapper is disabled in the server configuration by allow_url_fopen=0 on line 445 in file /home/mariaged/public_html/wp-content/plugins/page-flip-image-gallery/functions.class.php
Warning: getimagesize(http://stephane-lariviere.com/wp-content/pageflip/images/i_6emz1NNB.jpg): failed to open stream: no suitable wrapper could be found on line 445 in file /home/mariaged/public_html/wp-content/plugins/page-flip-image-gallery/functions.class.php
Warning: getimagesize(): http:// wrapper is disabled in the server configuration by allow_url_fopen=0 on line 445 in file /home/mariaged/public_html/wp-content/plugins/page-flip-image-gallery/functions.class.php
Warning: getimagesize(http://stephane-lariviere.com/wp-content/pageflip/images/i_Gpk9Ph1.jpg): failed to open stream: no suitable wrapper could be found on line 445 in file /home/mariaged/public_html/wp-content/plugins/page-flip-image-gallery/functions.class.php
Warning: getimagesize(): http:// wrapper is disabled in the server configuration by allow_url_fopen=0 on line 445 in file /home/mariaged/public_html/wp-content/plugins/page-flip-image-gallery/functions.class.php
Warning: getimagesize(http://stephane-lariviere.com/wp-content/pageflip/images/i_TLdknD.jpg): failed to open stream: no suitable wrapper could be found on line 445 in file /home/mariaged/public_html/wp-content/plugins/page-flip-image-gallery/functions.class.php
Warning: getimagesize(): http:// wrapper is disabled in the server configuration by allow_url_fopen=0 on line 445 in file /home/mariaged/public_html/wp-content/plugins/page-flip-image-gallery/functions.class.php
Warning: getimagesize(http://stephane-lariviere.com/wp-content/pageflip/images/i_b2jB4k.jpg): failed to open stream: no suitable wrapper could be found on line 445 in file /home/mariaged/public_html/wp-content/plugins/page-flip-image-gallery/functions.class.php
Warning: getimagesize(): http:// wrapper is disabled in the server configuration by allow_url_fopen=0 on line 445 in file /home/mariaged/public_html/wp-content/plugins/page-flip-image-gallery/functions.class.php
Warning: getimagesize(http://stephane-lariviere.com/wp-content/pageflip/images/i_tCCL7dKdl.jpg): failed to open stream: no suitable wrapper could be found on line 445 in file /home/mariaged/public_html/wp-content/plugins/page-flip-image-gallery/functions.class.php
Warning: getimagesize(): http:// wrapper is disabled in the server configuration by allow_url_fopen=0 on line 445 in file /home/mariaged/public_html/wp-content/plugins/page-flip-image-gallery/functions.class.php
Warning: getimagesize(http://stephane-lariviere.com/wp-content/pageflip/images/i_XHHqzfUtERQ.jpg): failed to open stream: no suitable wrapper could be found on line 445 in file /home/mariaged/public_html/wp-content/plugins/page-flip-image-gallery/functions.class.php
Warning: getimagesize(): http:// wrapper is disabled in the server configuration by allow_url_fopen=0 on line 445 in file /home/mariaged/public_html/wp-content/plugins/page-flip-image-gallery/functions.class.php
Warning: getimagesize(http://stephane-lariviere.com/wp-content/pageflip/images/i_3xQYA616fq.jpg): failed to open stream: no suitable wrapper could be found on line 445 in file /home/mariaged/public_html/wp-content/plugins/page-flip-image-gallery/functions.class.php
Warning: getimagesize(): http:// wrapper is disabled in the server configuration by allow_url_fopen=0 on line 445 in file /home/mariaged/public_html/wp-content/plugins/page-flip-image-gallery/functions.class.php
Warning: getimagesize(http://stephane-lariviere.com/wp-content/pageflip/images/i_bYHYAZEmL.jpg): failed to open stream: no suitable wrapper could be found on line 445 in file /home/mariaged/public_html/wp-content/plugins/page-flip-image-gallery/functions.class.php
Warning: getimagesize(): http:// wrapper is disabled in the server configuration by allow_url_fopen=0 on line 445 in file /home/mariaged/public_html/wp-content/plugins/page-flip-image-gallery/functions.class.php
Warning: getimagesize(http://stephane-lariviere.com/wp-content/pageflip/images/i_ElUC16y5B36V.jpg): failed to open stream: no suitable wrapper could be found on line 445 in file /home/mariaged/public_html/wp-content/plugins/page-flip-image-gallery/functions.class.php
Warning: getimagesize(): http:// wrapper is disabled in the server configuration by allow_url_fopen=0 on line 445 in file /home/mariaged/public_html/wp-content/plugins/page-flip-image-gallery/functions.class.php
Warning: getimagesize(http://stephane-lariviere.com/wp-content/pageflip/images/i_5ERTEn1Eh17.jpg): failed to open stream: no suitable wrapper could be found on line 445 in file /home/mariaged/public_html/wp-content/plugins/page-flip-image-gallery/functions.class.php
Warning: getimagesize(): http:// wrapper is disabled in the server configuration by allow_url_fopen=0 on line 445 in file /home/mariaged/public_html/wp-content/plugins/page-flip-image-gallery/functions.class.php
Warning: getimagesize(http://stephane-lariviere.com/wp-content/pageflip/images/i_s2fNOnqL.jpg): failed to open stream: no suitable wrapper could be found on line 445 in file /home/mariaged/public_html/wp-content/plugins/page-flip-image-gallery/functions.class.php
Warning: getimagesize(): http:// wrapper is disabled in the server configuration by allow_url_fopen=0 on line 445 in file /home/mariaged/public_html/wp-content/plugins/page-flip-image-gallery/functions.class.php
Warning: getimagesize(http://stephane-lariviere.com/wp-content/pageflip/images/i_eTyGKCa9.jpg): failed to open stream: no suitable wrapper could be found on line 445 in file /home/mariaged/public_html/wp-content/plugins/page-flip-image-gallery/functions.class.php
Warning: getimagesize(): http:// wrapper is disabled in the server configuration by allow_url_fopen=0 on line 445 in file /home/mariaged/public_html/wp-content/plugins/page-flip-image-gallery/functions.class.php
Warning: getimagesize(http://stephane-lariviere.com/wp-content/pageflip/images/i_0zHbpkcUwqkb.jpg): failed to open stream: no suitable wrapper could be found on line 445 in file /home/mariaged/public_html/wp-content/plugins/page-flip-image-gallery/functions.class.php
Warning: getimagesize(): http:// wrapper is disabled in the server configuration by allow_url_fopen=0 on line 445 in file /home/mariaged/public_html/wp-content/plugins/page-flip-image-gallery/functions.class.php
Warning: getimagesize(http://stephane-lariviere.com/wp-content/pageflip/images/i_vaTTtFA.jpg): failed to open stream: no suitable wrapper could be found on line 445 in file /home/mariaged/public_html/wp-content/plugins/page-flip-image-gallery/functions.class.php
Warning: getimagesize(): http:// wrapper is disabled in the server configuration by allow_url_fopen=0 on line 445 in file /home/mariaged/public_html/wp-content/plugins/page-flip-image-gallery/functions.class.php
Warning: getimagesize(http://stephane-lariviere.com/wp-content/pageflip/images/i_cRVBFOnl.jpg): failed to open stream: no suitable wrapper could be found on line 445 in file /home/mariaged/public_html/wp-content/plugins/page-flip-image-gallery/functions.class.php
Warning: getimagesize(): http:// wrapper is disabled in the server configuration by allow_url_fopen=0 on line 445 in file /home/mariaged/public_html/wp-content/plugins/page-flip-image-gallery/functions.class.php
Warning: getimagesize(http://stephane-lariviere.com/wp-content/pageflip/images/i_IMKwrD.jpg): failed to open stream: no suitable wrapper could be found on line 445 in file /home/mariaged/public_html/wp-content/plugins/page-flip-image-gallery/functions.class.php
Warning: getimagesize(): http:// wrapper is disabled in the server configuration by allow_url_fopen=0 on line 445 in file /home/mariaged/public_html/wp-content/plugins/page-flip-image-gallery/functions.class.php
Warning: getimagesize(http://stephane-lariviere.com/wp-content/pageflip/images/i_lP3zeQ3ziMF.jpg): failed to open stream: no suitable wrapper could be found on line 445 in file /home/mariaged/public_html/wp-content/plugins/page-flip-image-gallery/functions.class.php
Warning: getimagesize(): http:// wrapper is disabled in the server configuration by allow_url_fopen=0 on line 445 in file /home/mariaged/public_html/wp-content/plugins/page-flip-image-gallery/functions.class.php
Warning: getimagesize(http://stephane-lariviere.com/wp-content/pageflip/images/i_uXdfj6H41.jpg): failed to open stream: no suitable wrapper could be found on line 445 in file /home/mariaged/public_html/wp-content/plugins/page-flip-image-gallery/functions.class.php
Warning: getimagesize(): http:// wrapper is disabled in the server configuration by allow_url_fopen=0 on line 445 in file /home/mariaged/public_html/wp-content/plugins/page-flip-image-gallery/functions.class.php
Warning: getimagesize(http://stephane-lariviere.com/wp-content/pageflip/images/i_at3Vgk.jpg): failed to open stream: no suitable wrapper could be found on line 445 in file /home/mariaged/public_html/wp-content/plugins/page-flip-image-gallery/functions.class.php
Warning: getimagesize(): http:// wrapper is disabled in the server configuration by allow_url_fopen=0 on line 445 in file /home/mariaged/public_html/wp-content/plugins/page-flip-image-gallery/functions.class.php
Warning: getimagesize(http://stephane-lariviere.com/wp-content/pageflip/images/i_ipIQAOVMCT.jpg): failed to open stream: no suitable wrapper could be found on line 445 in file /home/mariaged/public_html/wp-content/plugins/page-flip-image-gallery/functions.class.php
Warning: getimagesize(): http:// wrapper is disabled in the server configuration by allow_url_fopen=0 on line 445 in file /home/mariaged/public_html/wp-content/plugins/page-flip-image-gallery/functions.class.php
Warning: getimagesize(http://stephane-lariviere.com/wp-content/pageflip/images/i_EWwnIAs.jpg): failed to open stream: no suitable wrapper could be found on line 445 in file /home/mariaged/public_html/wp-content/plugins/page-flip-image-gallery/functions.class.php
Warning: getimagesize(): http:// wrapper is disabled in the server configuration by allow_url_fopen=0 on line 445 in file /home/mariaged/public_html/wp-content/plugins/page-flip-image-gallery/functions.class.php
Warning: getimagesize(http://stephane-lariviere.com/wp-content/pageflip/images/i_LmqS3.jpg): failed to open stream: no suitable wrapper could be found on line 445 in file /home/mariaged/public_html/wp-content/plugins/page-flip-image-gallery/functions.class.php
Warning: getimagesize(): http:// wrapper is disabled in the server configuration by allow_url_fopen=0 on line 445 in file /home/mariaged/public_html/wp-content/plugins/page-flip-image-gallery/functions.class.php
Warning: getimagesize(http://stephane-lariviere.com/wp-content/pageflip/images/i_sMoT3ikX.jpg): failed to open stream: no suitable wrapper could be found on line 445 in file /home/mariaged/public_html/wp-content/plugins/page-flip-image-gallery/functions.class.php
Warning: getimagesize(): http:// wrapper is disabled in the server configuration by allow_url_fopen=0 on line 445 in file /home/mariaged/public_html/wp-content/plugins/page-flip-image-gallery/functions.class.php
Warning: getimagesize(http://stephane-lariviere.com/wp-content/pageflip/images/i_s7W5LiWSu40R.jpg): failed to open stream: no suitable wrapper could be found on line 445 in file /home/mariaged/public_html/wp-content/plugins/page-flip-image-gallery/functions.class.php
Warning: getimagesize(): http:// wrapper is disabled in the server configuration by allow_url_fopen=0 on line 445 in file /home/mariaged/public_html/wp-content/plugins/page-flip-image-gallery/functions.class.php
Warning: getimagesize(http://stephane-lariviere.com/wp-content/pageflip/images/i_3yKJ1FY.jpg): failed to open stream: no suitable wrapper could be found on line 445 in file /home/mariaged/public_html/wp-content/plugins/page-flip-image-gallery/functions.class.php
Warning: getimagesize(): http:// wrapper is disabled in the server configuration by allow_url_fopen=0 on line 445 in file /home/mariaged/public_html/wp-content/plugins/page-flip-image-gallery/functions.class.php
Warning: getimagesize(http://stephane-lariviere.com/wp-content/pageflip/images/i_66Yf0bpM.jpg): failed to open stream: no suitable wrapper could be found on line 445 in file /home/mariaged/public_html/wp-content/plugins/page-flip-image-gallery/functions.class.php
Warning: getimagesize(): http:// wrapper is disabled in the server configuration by allow_url_fopen=0 on line 445 in file /home/mariaged/public_html/wp-content/plugins/page-flip-image-gallery/functions.class.php
Warning: getimagesize(http://stephane-lariviere.com/wp-content/pageflip/images/i_3ezBOiOw.jpg): failed to open stream: no suitable wrapper could be found on line 445 in file /home/mariaged/public_html/wp-content/plugins/page-flip-image-gallery/functions.class.php
Warning: getimagesize(): http:// wrapper is disabled in the server configuration by allow_url_fopen=0 on line 445 in file /home/mariaged/public_html/wp-content/plugins/page-flip-image-gallery/functions.class.php
Warning: getimagesize(http://stephane-lariviere.com/wp-content/pageflip/images/i_YhspOuCWt50.jpg): failed to open stream: no suitable wrapper could be found on line 445 in file /home/mariaged/public_html/wp-content/plugins/page-flip-image-gallery/functions.class.php
Warning: getimagesize(): http:// wrapper is disabled in the server configuration by allow_url_fopen=0 on line 445 in file /home/mariaged/public_html/wp-content/plugins/page-flip-image-gallery/functions.class.php
Warning: getimagesize(http://stephane-lariviere.com/wp-content/pageflip/images/i_wuUesmK1ap.jpg): failed to open stream: no suitable wrapper could be found on line 445 in file /home/mariaged/public_html/wp-content/plugins/page-flip-image-gallery/functions.class.php
Warning: getimagesize(): http:// wrapper is disabled in the server configuration by allow_url_fopen=0 on line 445 in file /home/mariaged/public_html/wp-content/plugins/page-flip-image-gallery/functions.class.php
Warning: getimagesize(http://stephane-lariviere.com/wp-content/pageflip/images/i_cpdNdF2unKo.jpg): failed to open stream: no suitable wrapper could be found on line 445 in file /home/mariaged/public_html/wp-content/plugins/page-flip-image-gallery/functions.class.php
Warning: getimagesize(): http:// wrapper is disabled in the server configuration by allow_url_fopen=0 on line 445 in file /home/mariaged/public_html/wp-content/plugins/page-flip-image-gallery/functions.class.php
Warning: getimagesize(http://stephane-lariviere.com/wp-content/pageflip/images/i_WRkwfLi.jpg): failed to open stream: no suitable wrapper could be found on line 445 in file /home/mariaged/public_html/wp-content/plugins/page-flip-image-gallery/functions.class.php
Warning: getimagesize(): http:// wrapper is disabled in the server configuration by allow_url_fopen=0 on line 445 in file /home/mariaged/public_html/wp-content/plugins/page-flip-image-gallery/functions.class.php
Warning: getimagesize(http://stephane-lariviere.com/wp-content/pageflip/images/i_8WcO2gCM4q.jpg): failed to open stream: no suitable wrapper could be found on line 445 in file /home/mariaged/public_html/wp-content/plugins/page-flip-image-gallery/functions.class.php
Photos de mariage à destination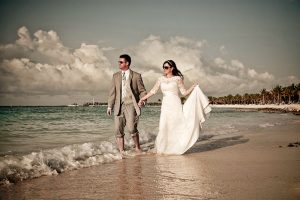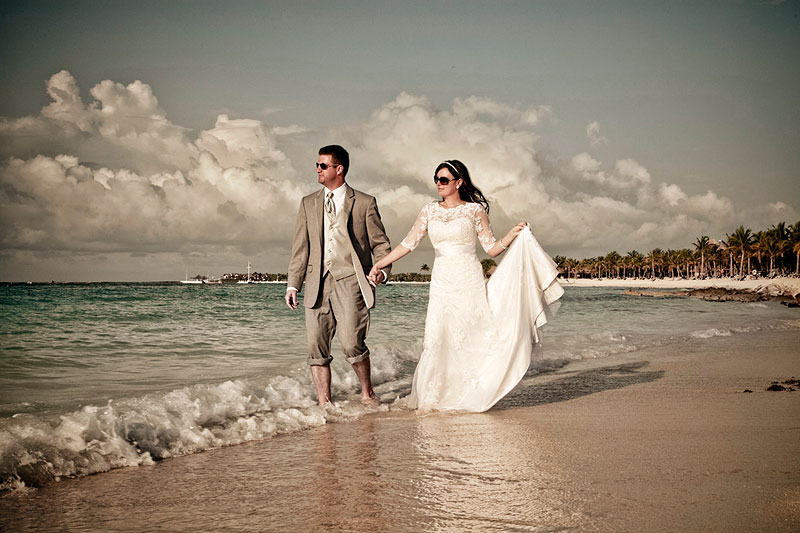 Il y a quelques mois de cela, j'ai reçu un courriel me demandant si je serais disponible pour photographier un mariage au Mexique.  Plus précisément au Barcelo Maya Palace Deluxe à Riviera Maya.  Après avoir vérifié mon horaire et aussi la disponibilité de mon assistante (mon épouse) tout était parfait, donc je pouvais participer à ce grand jour au bord de la plage!
Évidemment, avant de partir il y a plusieurs détails à vérifier; l'équipement qu'on apporte (parce que nous devons garder le tout en cabine et c'est limité), les passeports, les assurances, la gardienne pour les enfants et j'en passe… 😉
La veille du grand départ on termine les valises, il ne faut rien oublier parce qu'à notre arrivée ça fait loin pour revenir chercher ce qu'il pourrait manquer, donc on fait une liste!
Rendu à l'Hotel, il faut prendre le temps de faire du repérage sur le site pour ne pas perdre de temps à chercher lors de la prises des photos. En discutant avec les mariés, on identifie les endroits qu'ils préfèrent et on parle aussi des détails du déroulement de la journée du mariage et des options advenant un jour de pluie. Du fait que nous soyons présents toute la semaine, ça permet de planifier d'autres séances de photos les jours suivants le mariage. Que ce soit pour des photos au levé du soleil ou à son couché ou encore des photos de couples dans l'océan et du genre « trash the dress » sur la plage, tout est possible selon ce que les mariés souhaitent.  Même des photos sous-marines en tenues de mariage!  Durant la semaine, il est également possible (en supplément) de planifier des séances de photos de familles sur la plage pour les invités qui le désirent.
Au retour, le travail continu… il faut faire la sélection des clichés, les retouches, le DVD des épreuves, le montage des albums,  les cartes de remerciements, les impressions, les encadrements et tout le reste.
C'est une expérience incroyable de participer à un mariage dans les Tropiques!  Je vous invites à découvrir comment ça se passe dans le  petit clip ci-bas.
Making of photos de mariage dans le sud au Barcelo Maya Palace Deluxe à Riviera Maya au Mexique.avi
[ad#ad-13-voyage]
Vous prévoyez organiser votre mariage dans le sud?  Vous avez aimé ce que vous avez vu?  N'hésitez pas à nous contacter pour connaître comment nous pourrions être des vôtres!
Et ne vous gênez pas pour laisser un petit commentaire… 😉  Merci et au plaisir de créer vos souvenirs!
Dernière nouvelles!
L'album a été nommé album de mariage de l'année 2013 au Québec!