Showing posts tagged with: albums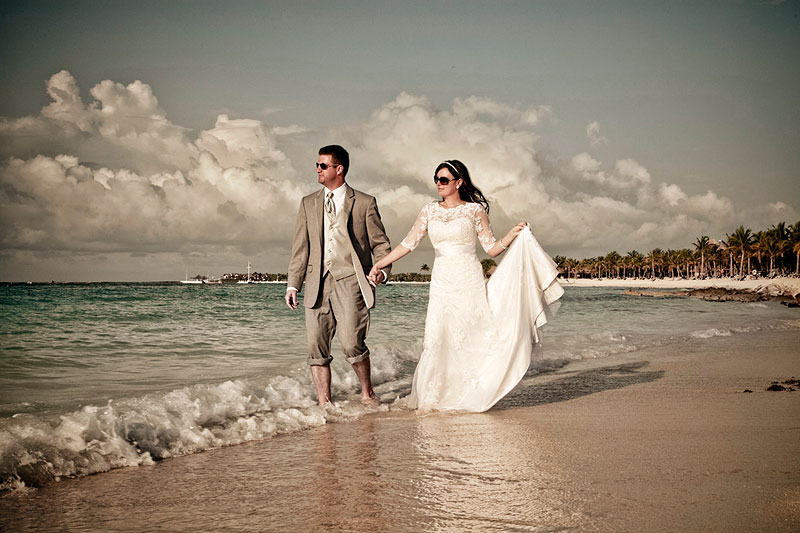 06
Juin
Warning: getimagesize(): http:// wrapper is disabled in the server configuration by allow_url_fopen=0 on line 445 in file /home/mariaged/public_html/wp-content/plugins/page-flip-image-gallery/functions.class.php
Warning: getimagesize(http://stephane-lariviere.com/wp-content/pageflip/images/i_vwpovQG1.jpg): failed to open stream: no suitable wrapper could be found on line 445 in file /home/mariaged/public_html/wp-content/plugins/page-flip-image-gallery/functions.class.php
Warning: getimagesize(): http:// wrapper is disabled in the server configuration by allow_url_fopen=0 on line 445 in file /home/mariaged/public_html/wp-content/plugins/page-flip-image-gallery/functions.class.php
Warning: getimagesize(http://stephane-lariviere.com/wp-content/pageflip/images/i_2C6DkeRybh.jpg): failed to open stream: no suitable wrapper could be found on line 445 in file /home/mariaged/public_html/wp-content/plugins/page-flip-image-gallery/functions.class.php
Warning: getimagesize(): http:// wrapper is disabled in the server configuration by allow_url_fopen=0 on line 445 in file /home/mariaged/public_html/wp-content/plugins/page-flip-image-gallery/functions.class.php
Warning: getimagesize(http://stephane-lariviere.com/wp-content/pageflip/images/i_wS12Pcv.jpg): failed to open stream: no suitable wrapper could be found on line 445 in file /home/mariaged/public_html/wp-content/plugins/page-flip-image-gallery/functions.class.php
Warning: getimagesize(): http:// wrapper is disabled in the server configuration by allow_url_fopen=0 on line 445 in file /home/mariaged/public_html/wp-content/plugins/page-flip-image-gallery/functions.class.php
Warning: getimagesize(http://stephane-lariviere.com/wp-content/pageflip/images/i_Q5Egh9KiIJ.jpg): failed to open stream: no suitable wrapper could be found on line 445 in file /home/mariaged/public_html/wp-content/plugins/page-flip-image-gallery/functions.class.php
Warning: getimagesize(): http:// wrapper is disabled in the server configuration by allow_url_fopen=0 on line 445 in file /home/mariaged/public_html/wp-content/plugins/page-flip-image-gallery/functions.class.php
Warning: getimagesize(http://stephane-lariviere.com/wp-content/pageflip/images/i_tdhmwu7l7aV.jpg): failed to open stream: no suitable wrapper could be found on line 445 in file /home/mariaged/public_html/wp-content/plugins/page-flip-image-gallery/functions.class.php
Warning: getimagesize(): http:// wrapper is disabled in the server configuration by allow_url_fopen=0 on line 445 in file /home/mariaged/public_html/wp-content/plugins/page-flip-image-gallery/functions.class.php
Warning: getimagesize(http://stephane-lariviere.com/wp-content/pageflip/images/i_mR5ImXOusmZx.jpg): failed to open stream: no suitable wrapper could be found on line 445 in file /home/mariaged/public_html/wp-content/plugins/page-flip-image-gallery/functions.class.php
Warning: getimagesize(): http:// wrapper is disabled in the server configuration by allow_url_fopen=0 on line 445 in file /home/mariaged/public_html/wp-content/plugins/page-flip-image-gallery/functions.class.php
Warning: getimagesize(http://stephane-lariviere.com/wp-content/pageflip/images/i_4W7FV7zD.jpg): failed to open stream: no suitable wrapper could be found on line 445 in file /home/mariaged/public_html/wp-content/plugins/page-flip-image-gallery/functions.class.php
Warning: getimagesize(): http:// wrapper is disabled in the server configuration by allow_url_fopen=0 on line 445 in file /home/mariaged/public_html/wp-content/plugins/page-flip-image-gallery/functions.class.php
Warning: getimagesize(http://stephane-lariviere.com/wp-content/pageflip/images/i_wX9Mv8gRVVC.jpg): failed to open stream: no suitable wrapper could be found on line 445 in file /home/mariaged/public_html/wp-content/plugins/page-flip-image-gallery/functions.class.php
Warning: getimagesize(): http:// wrapper is disabled in the server configuration by allow_url_fopen=0 on line 445 in file /home/mariaged/public_html/wp-content/plugins/page-flip-image-gallery/functions.class.php
Warning: getimagesize(http://stephane-lariviere.com/wp-content/pageflip/images/i_9dkfVHOKe1.jpg): failed to open stream: no suitable wrapper could be found on line 445 in file /home/mariaged/public_html/wp-content/plugins/page-flip-image-gallery/functions.class.php
Warning: getimagesize(): http:// wrapper is disabled in the server configuration by allow_url_fopen=0 on line 445 in file /home/mariaged/public_html/wp-content/plugins/page-flip-image-gallery/functions.class.php
Warning: getimagesize(http://stephane-lariviere.com/wp-content/pageflip/images/i_yyGQ5cbA3L.jpg): failed to open stream: no suitable wrapper could be found on line 445 in file /home/mariaged/public_html/wp-content/plugins/page-flip-image-gallery/functions.class.php
Warning: getimagesize(): http:// wrapper is disabled in the server configuration by allow_url_fopen=0 on line 445 in file /home/mariaged/public_html/wp-content/plugins/page-flip-image-gallery/functions.class.php
Warning: getimagesize(http://stephane-lariviere.com/wp-content/pageflip/images/i_ZvDZE8PadY.jpg): failed to open stream: no suitable wrapper could be found on line 445 in file /home/mariaged/public_html/wp-content/plugins/page-flip-image-gallery/functions.class.php
Warning: getimagesize(): http:// wrapper is disabled in the server configuration by allow_url_fopen=0 on line 445 in file /home/mariaged/public_html/wp-content/plugins/page-flip-image-gallery/functions.class.php
Warning: getimagesize(http://stephane-lariviere.com/wp-content/pageflip/images/i_ZiHeJm8.jpg): failed to open stream: no suitable wrapper could be found on line 445 in file /home/mariaged/public_html/wp-content/plugins/page-flip-image-gallery/functions.class.php
Warning: getimagesize(): http:// wrapper is disabled in the server configuration by allow_url_fopen=0 on line 445 in file /home/mariaged/public_html/wp-content/plugins/page-flip-image-gallery/functions.class.php
Warning: getimagesize(http://stephane-lariviere.com/wp-content/pageflip/images/i_FWZAYQBhew.jpg): failed to open stream: no suitable wrapper could be found on line 445 in file /home/mariaged/public_html/wp-content/plugins/page-flip-image-gallery/functions.class.php
Warning: getimagesize(): http:// wrapper is disabled in the server configuration by allow_url_fopen=0 on line 445 in file /home/mariaged/public_html/wp-content/plugins/page-flip-image-gallery/functions.class.php
Warning: getimagesize(http://stephane-lariviere.com/wp-content/pageflip/images/i_Huv6DhyWPU39.jpg): failed to open stream: no suitable wrapper could be found on line 445 in file /home/mariaged/public_html/wp-content/plugins/page-flip-image-gallery/functions.class.php
Warning: getimagesize(): http:// wrapper is disabled in the server configuration by allow_url_fopen=0 on line 445 in file /home/mariaged/public_html/wp-content/plugins/page-flip-image-gallery/functions.class.php
Warning: getimagesize(http://stephane-lariviere.com/wp-content/pageflip/images/i_jGxNjnY3Nee.jpg): failed to open stream: no suitable wrapper could be found on line 445 in file /home/mariaged/public_html/wp-content/plugins/page-flip-image-gallery/functions.class.php
Warning: getimagesize(): http:// wrapper is disabled in the server configuration by allow_url_fopen=0 on line 445 in file /home/mariaged/public_html/wp-content/plugins/page-flip-image-gallery/functions.class.php
Warning: getimagesize(http://stephane-lariviere.com/wp-content/pageflip/images/i_wZKQxdxg9v.jpg): failed to open stream: no suitable wrapper could be found on line 445 in file /home/mariaged/public_html/wp-content/plugins/page-flip-image-gallery/functions.class.php
Warning: getimagesize(): http:// wrapper is disabled in the server configuration by allow_url_fopen=0 on line 445 in file /home/mariaged/public_html/wp-content/plugins/page-flip-image-gallery/functions.class.php
Warning: getimagesize(http://stephane-lariviere.com/wp-content/pageflip/images/i_UTAzJbeyX.jpg): failed to open stream: no suitable wrapper could be found on line 445 in file /home/mariaged/public_html/wp-content/plugins/page-flip-image-gallery/functions.class.php
Warning: getimagesize(): http:// wrapper is disabled in the server configuration by allow_url_fopen=0 on line 445 in file /home/mariaged/public_html/wp-content/plugins/page-flip-image-gallery/functions.class.php
Warning: getimagesize(http://stephane-lariviere.com/wp-content/pageflip/images/i_GjbWFHSLFp.jpg): failed to open stream: no suitable wrapper could be found on line 445 in file /home/mariaged/public_html/wp-content/plugins/page-flip-image-gallery/functions.class.php
Warning: getimagesize(): http:// wrapper is disabled in the server configuration by allow_url_fopen=0 on line 445 in file /home/mariaged/public_html/wp-content/plugins/page-flip-image-gallery/functions.class.php
Warning: getimagesize(http://stephane-lariviere.com/wp-content/pageflip/images/i_9fhTGyoVH.jpg): failed to open stream: no suitable wrapper could be found on line 445 in file /home/mariaged/public_html/wp-content/plugins/page-flip-image-gallery/functions.class.php
Warning: getimagesize(): http:// wrapper is disabled in the server configuration by allow_url_fopen=0 on line 445 in file /home/mariaged/public_html/wp-content/plugins/page-flip-image-gallery/functions.class.php
Warning: getimagesize(http://stephane-lariviere.com/wp-content/pageflip/images/i_aUdtvquSEu.jpg): failed to open stream: no suitable wrapper could be found on line 445 in file /home/mariaged/public_html/wp-content/plugins/page-flip-image-gallery/functions.class.php
Warning: getimagesize(): http:// wrapper is disabled in the server configuration by allow_url_fopen=0 on line 445 in file /home/mariaged/public_html/wp-content/plugins/page-flip-image-gallery/functions.class.php
Warning: getimagesize(http://stephane-lariviere.com/wp-content/pageflip/images/i_JEXldNr.jpg): failed to open stream: no suitable wrapper could be found on line 445 in file /home/mariaged/public_html/wp-content/plugins/page-flip-image-gallery/functions.class.php
Warning: getimagesize(): http:// wrapper is disabled in the server configuration by allow_url_fopen=0 on line 445 in file /home/mariaged/public_html/wp-content/plugins/page-flip-image-gallery/functions.class.php
Warning: getimagesize(http://stephane-lariviere.com/wp-content/pageflip/images/i_mKD4wjZNDSy.jpg): failed to open stream: no suitable wrapper could be found on line 445 in file /home/mariaged/public_html/wp-content/plugins/page-flip-image-gallery/functions.class.php
Warning: getimagesize(): http:// wrapper is disabled in the server configuration by allow_url_fopen=0 on line 445 in file /home/mariaged/public_html/wp-content/plugins/page-flip-image-gallery/functions.class.php
Warning: getimagesize(http://stephane-lariviere.com/wp-content/pageflip/images/i_IUm4avMB.jpg): failed to open stream: no suitable wrapper could be found on line 445 in file /home/mariaged/public_html/wp-content/plugins/page-flip-image-gallery/functions.class.php
Warning: getimagesize(): http:// wrapper is disabled in the server configuration by allow_url_fopen=0 on line 445 in file /home/mariaged/public_html/wp-content/plugins/page-flip-image-gallery/functions.class.php
Warning: getimagesize(http://stephane-lariviere.com/wp-content/pageflip/images/i_bqBzIBhjPB.jpg): failed to open stream: no suitable wrapper could be found on line 445 in file /home/mariaged/public_html/wp-content/plugins/page-flip-image-gallery/functions.class.php
Warning: getimagesize(): http:// wrapper is disabled in the server configuration by allow_url_fopen=0 on line 445 in file /home/mariaged/public_html/wp-content/plugins/page-flip-image-gallery/functions.class.php
Warning: getimagesize(http://stephane-lariviere.com/wp-content/pageflip/images/i_ET9yba0.jpg): failed to open stream: no suitable wrapper could be found on line 445 in file /home/mariaged/public_html/wp-content/plugins/page-flip-image-gallery/functions.class.php
Warning: getimagesize(): http:// wrapper is disabled in the server configuration by allow_url_fopen=0 on line 445 in file /home/mariaged/public_html/wp-content/plugins/page-flip-image-gallery/functions.class.php
Warning: getimagesize(http://stephane-lariviere.com/wp-content/pageflip/images/i_xzJi9K.jpg): failed to open stream: no suitable wrapper could be found on line 445 in file /home/mariaged/public_html/wp-content/plugins/page-flip-image-gallery/functions.class.php
Warning: getimagesize(): http:// wrapper is disabled in the server configuration by allow_url_fopen=0 on line 445 in file /home/mariaged/public_html/wp-content/plugins/page-flip-image-gallery/functions.class.php
Warning: getimagesize(http://stephane-lariviere.com/wp-content/pageflip/images/i_iVjAUapSD4h.jpg): failed to open stream: no suitable wrapper could be found on line 445 in file /home/mariaged/public_html/wp-content/plugins/page-flip-image-gallery/functions.class.php
Warning: getimagesize(): http:// wrapper is disabled in the server configuration by allow_url_fopen=0 on line 445 in file /home/mariaged/public_html/wp-content/plugins/page-flip-image-gallery/functions.class.php
Warning: getimagesize(http://stephane-lariviere.com/wp-content/pageflip/images/i_gFILxj2hh.jpg): failed to open stream: no suitable wrapper could be found on line 445 in file /home/mariaged/public_html/wp-content/plugins/page-flip-image-gallery/functions.class.php
Warning: getimagesize(): http:// wrapper is disabled in the server configuration by allow_url_fopen=0 on line 445 in file /home/mariaged/public_html/wp-content/plugins/page-flip-image-gallery/functions.class.php
Warning: getimagesize(http://stephane-lariviere.com/wp-content/pageflip/images/i_6emz1NNB.jpg): failed to open stream: no suitable wrapper could be found on line 445 in file /home/mariaged/public_html/wp-content/plugins/page-flip-image-gallery/functions.class.php
Warning: getimagesize(): http:// wrapper is disabled in the server configuration by allow_url_fopen=0 on line 445 in file /home/mariaged/public_html/wp-content/plugins/page-flip-image-gallery/functions.class.php
Warning: getimagesize(http://stephane-lariviere.com/wp-content/pageflip/images/i_Gpk9Ph1.jpg): failed to open stream: no suitable wrapper could be found on line 445 in file /home/mariaged/public_html/wp-content/plugins/page-flip-image-gallery/functions.class.php
Warning: getimagesize(): http:// wrapper is disabled in the server configuration by allow_url_fopen=0 on line 445 in file /home/mariaged/public_html/wp-content/plugins/page-flip-image-gallery/functions.class.php
Warning: getimagesize(http://stephane-lariviere.com/wp-content/pageflip/images/i_TLdknD.jpg): failed to open stream: no suitable wrapper could be found on line 445 in file /home/mariaged/public_html/wp-content/plugins/page-flip-image-gallery/functions.class.php
Warning: getimagesize(): http:// wrapper is disabled in the server configuration by allow_url_fopen=0 on line 445 in file /home/mariaged/public_html/wp-content/plugins/page-flip-image-gallery/functions.class.php
Warning: getimagesize(http://stephane-lariviere.com/wp-content/pageflip/images/i_b2jB4k.jpg): failed to open stream: no suitable wrapper could be found on line 445 in file /home/mariaged/public_html/wp-content/plugins/page-flip-image-gallery/functions.class.php
Warning: getimagesize(): http:// wrapper is disabled in the server configuration by allow_url_fopen=0 on line 445 in file /home/mariaged/public_html/wp-content/plugins/page-flip-image-gallery/functions.class.php
Warning: getimagesize(http://stephane-lariviere.com/wp-content/pageflip/images/i_tCCL7dKdl.jpg): failed to open stream: no suitable wrapper could be found on line 445 in file /home/mariaged/public_html/wp-content/plugins/page-flip-image-gallery/functions.class.php
Warning: getimagesize(): http:// wrapper is disabled in the server configuration by allow_url_fopen=0 on line 445 in file /home/mariaged/public_html/wp-content/plugins/page-flip-image-gallery/functions.class.php
Warning: getimagesize(http://stephane-lariviere.com/wp-content/pageflip/images/i_XHHqzfUtERQ.jpg): failed to open stream: no suitable wrapper could be found on line 445 in file /home/mariaged/public_html/wp-content/plugins/page-flip-image-gallery/functions.class.php
Warning: getimagesize(): http:// wrapper is disabled in the server configuration by allow_url_fopen=0 on line 445 in file /home/mariaged/public_html/wp-content/plugins/page-flip-image-gallery/functions.class.php
Warning: getimagesize(http://stephane-lariviere.com/wp-content/pageflip/images/i_3xQYA616fq.jpg): failed to open stream: no suitable wrapper could be found on line 445 in file /home/mariaged/public_html/wp-content/plugins/page-flip-image-gallery/functions.class.php
Warning: getimagesize(): http:// wrapper is disabled in the server configuration by allow_url_fopen=0 on line 445 in file /home/mariaged/public_html/wp-content/plugins/page-flip-image-gallery/functions.class.php
Warning: getimagesize(http://stephane-lariviere.com/wp-content/pageflip/images/i_bYHYAZEmL.jpg): failed to open stream: no suitable wrapper could be found on line 445 in file /home/mariaged/public_html/wp-content/plugins/page-flip-image-gallery/functions.class.php
Warning: getimagesize(): http:// wrapper is disabled in the server configuration by allow_url_fopen=0 on line 445 in file /home/mariaged/public_html/wp-content/plugins/page-flip-image-gallery/functions.class.php
Warning: getimagesize(http://stephane-lariviere.com/wp-content/pageflip/images/i_ElUC16y5B36V.jpg): failed to open stream: no suitable wrapper could be found on line 445 in file /home/mariaged/public_html/wp-content/plugins/page-flip-image-gallery/functions.class.php
Warning: getimagesize(): http:// wrapper is disabled in the server configuration by allow_url_fopen=0 on line 445 in file /home/mariaged/public_html/wp-content/plugins/page-flip-image-gallery/functions.class.php
Warning: getimagesize(http://stephane-lariviere.com/wp-content/pageflip/images/i_5ERTEn1Eh17.jpg): failed to open stream: no suitable wrapper could be found on line 445 in file /home/mariaged/public_html/wp-content/plugins/page-flip-image-gallery/functions.class.php
Warning: getimagesize(): http:// wrapper is disabled in the server configuration by allow_url_fopen=0 on line 445 in file /home/mariaged/public_html/wp-content/plugins/page-flip-image-gallery/functions.class.php
Warning: getimagesize(http://stephane-lariviere.com/wp-content/pageflip/images/i_s2fNOnqL.jpg): failed to open stream: no suitable wrapper could be found on line 445 in file /home/mariaged/public_html/wp-content/plugins/page-flip-image-gallery/functions.class.php
Warning: getimagesize(): http:// wrapper is disabled in the server configuration by allow_url_fopen=0 on line 445 in file /home/mariaged/public_html/wp-content/plugins/page-flip-image-gallery/functions.class.php
Warning: getimagesize(http://stephane-lariviere.com/wp-content/pageflip/images/i_eTyGKCa9.jpg): failed to open stream: no suitable wrapper could be found on line 445 in file /home/mariaged/public_html/wp-content/plugins/page-flip-image-gallery/functions.class.php
Warning: getimagesize(): http:// wrapper is disabled in the server configuration by allow_url_fopen=0 on line 445 in file /home/mariaged/public_html/wp-content/plugins/page-flip-image-gallery/functions.class.php
Warning: getimagesize(http://stephane-lariviere.com/wp-content/pageflip/images/i_0zHbpkcUwqkb.jpg): failed to open stream: no suitable wrapper could be found on line 445 in file /home/mariaged/public_html/wp-content/plugins/page-flip-image-gallery/functions.class.php
Warning: getimagesize(): http:// wrapper is disabled in the server configuration by allow_url_fopen=0 on line 445 in file /home/mariaged/public_html/wp-content/plugins/page-flip-image-gallery/functions.class.php
Warning: getimagesize(http://stephane-lariviere.com/wp-content/pageflip/images/i_vaTTtFA.jpg): failed to open stream: no suitable wrapper could be found on line 445 in file /home/mariaged/public_html/wp-content/plugins/page-flip-image-gallery/functions.class.php
Warning: getimagesize(): http:// wrapper is disabled in the server configuration by allow_url_fopen=0 on line 445 in file /home/mariaged/public_html/wp-content/plugins/page-flip-image-gallery/functions.class.php
Warning: getimagesize(http://stephane-lariviere.com/wp-content/pageflip/images/i_cRVBFOnl.jpg): failed to open stream: no suitable wrapper could be found on line 445 in file /home/mariaged/public_html/wp-content/plugins/page-flip-image-gallery/functions.class.php
Warning: getimagesize(): http:// wrapper is disabled in the server configuration by allow_url_fopen=0 on line 445 in file /home/mariaged/public_html/wp-content/plugins/page-flip-image-gallery/functions.class.php
Warning: getimagesize(http://stephane-lariviere.com/wp-content/pageflip/images/i_IMKwrD.jpg): failed to open stream: no suitable wrapper could be found on line 445 in file /home/mariaged/public_html/wp-content/plugins/page-flip-image-gallery/functions.class.php
Warning: getimagesize(): http:// wrapper is disabled in the server configuration by allow_url_fopen=0 on line 445 in file /home/mariaged/public_html/wp-content/plugins/page-flip-image-gallery/functions.class.php
Warning: getimagesize(http://stephane-lariviere.com/wp-content/pageflip/images/i_lP3zeQ3ziMF.jpg): failed to open stream: no suitable wrapper could be found on line 445 in file /home/mariaged/public_html/wp-content/plugins/page-flip-image-gallery/functions.class.php
Warning: getimagesize(): http:// wrapper is disabled in the server configuration by allow_url_fopen=0 on line 445 in file /home/mariaged/public_html/wp-content/plugins/page-flip-image-gallery/functions.class.php
Warning: getimagesize(http://stephane-lariviere.com/wp-content/pageflip/images/i_uXdfj6H41.jpg): failed to open stream: no suitable wrapper could be found on line 445 in file /home/mariaged/public_html/wp-content/plugins/page-flip-image-gallery/functions.class.php
Warning: getimagesize(): http:// wrapper is disabled in the server configuration by allow_url_fopen=0 on line 445 in file /home/mariaged/public_html/wp-content/plugins/page-flip-image-gallery/functions.class.php
Warning: getimagesize(http://stephane-lariviere.com/wp-content/pageflip/images/i_at3Vgk.jpg): failed to open stream: no suitable wrapper could be found on line 445 in file /home/mariaged/public_html/wp-content/plugins/page-flip-image-gallery/functions.class.php
Warning: getimagesize(): http:// wrapper is disabled in the server configuration by allow_url_fopen=0 on line 445 in file /home/mariaged/public_html/wp-content/plugins/page-flip-image-gallery/functions.class.php
Warning: getimagesize(http://stephane-lariviere.com/wp-content/pageflip/images/i_ipIQAOVMCT.jpg): failed to open stream: no suitable wrapper could be found on line 445 in file /home/mariaged/public_html/wp-content/plugins/page-flip-image-gallery/functions.class.php
Warning: getimagesize(): http:// wrapper is disabled in the server configuration by allow_url_fopen=0 on line 445 in file /home/mariaged/public_html/wp-content/plugins/page-flip-image-gallery/functions.class.php
Warning: getimagesize(http://stephane-lariviere.com/wp-content/pageflip/images/i_EWwnIAs.jpg): failed to open stream: no suitable wrapper could be found on line 445 in file /home/mariaged/public_html/wp-content/plugins/page-flip-image-gallery/functions.class.php
Warning: getimagesize(): http:// wrapper is disabled in the server configuration by allow_url_fopen=0 on line 445 in file /home/mariaged/public_html/wp-content/plugins/page-flip-image-gallery/functions.class.php
Warning: getimagesize(http://stephane-lariviere.com/wp-content/pageflip/images/i_LmqS3.jpg): failed to open stream: no suitable wrapper could be found on line 445 in file /home/mariaged/public_html/wp-content/plugins/page-flip-image-gallery/functions.class.php
Warning: getimagesize(): http:// wrapper is disabled in the server configuration by allow_url_fopen=0 on line 445 in file /home/mariaged/public_html/wp-content/plugins/page-flip-image-gallery/functions.class.php
Warning: getimagesize(http://stephane-lariviere.com/wp-content/pageflip/images/i_sMoT3ikX.jpg): failed to open stream: no suitable wrapper could be found on line 445 in file /home/mariaged/public_html/wp-content/plugins/page-flip-image-gallery/functions.class.php
Warning: getimagesize(): http:// wrapper is disabled in the server configuration by allow_url_fopen=0 on line 445 in file /home/mariaged/public_html/wp-content/plugins/page-flip-image-gallery/functions.class.php
Warning: getimagesize(http://stephane-lariviere.com/wp-content/pageflip/images/i_s7W5LiWSu40R.jpg): failed to open stream: no suitable wrapper could be found on line 445 in file /home/mariaged/public_html/wp-content/plugins/page-flip-image-gallery/functions.class.php
Warning: getimagesize(): http:// wrapper is disabled in the server configuration by allow_url_fopen=0 on line 445 in file /home/mariaged/public_html/wp-content/plugins/page-flip-image-gallery/functions.class.php
Warning: getimagesize(http://stephane-lariviere.com/wp-content/pageflip/images/i_3yKJ1FY.jpg): failed to open stream: no suitable wrapper could be found on line 445 in file /home/mariaged/public_html/wp-content/plugins/page-flip-image-gallery/functions.class.php
Warning: getimagesize(): http:// wrapper is disabled in the server configuration by allow_url_fopen=0 on line 445 in file /home/mariaged/public_html/wp-content/plugins/page-flip-image-gallery/functions.class.php
Warning: getimagesize(http://stephane-lariviere.com/wp-content/pageflip/images/i_66Yf0bpM.jpg): failed to open stream: no suitable wrapper could be found on line 445 in file /home/mariaged/public_html/wp-content/plugins/page-flip-image-gallery/functions.class.php
Warning: getimagesize(): http:// wrapper is disabled in the server configuration by allow_url_fopen=0 on line 445 in file /home/mariaged/public_html/wp-content/plugins/page-flip-image-gallery/functions.class.php
Warning: getimagesize(http://stephane-lariviere.com/wp-content/pageflip/images/i_3ezBOiOw.jpg): failed to open stream: no suitable wrapper could be found on line 445 in file /home/mariaged/public_html/wp-content/plugins/page-flip-image-gallery/functions.class.php
Warning: getimagesize(): http:// wrapper is disabled in the server configuration by allow_url_fopen=0 on line 445 in file /home/mariaged/public_html/wp-content/plugins/page-flip-image-gallery/functions.class.php
Warning: getimagesize(http://stephane-lariviere.com/wp-content/pageflip/images/i_YhspOuCWt50.jpg): failed to open stream: no suitable wrapper could be found on line 445 in file /home/mariaged/public_html/wp-content/plugins/page-flip-image-gallery/functions.class.php
Warning: getimagesize(): http:// wrapper is disabled in the server configuration by allow_url_fopen=0 on line 445 in file /home/mariaged/public_html/wp-content/plugins/page-flip-image-gallery/functions.class.php
Warning: getimagesize(http://stephane-lariviere.com/wp-content/pageflip/images/i_wuUesmK1ap.jpg): failed to open stream: no suitable wrapper could be found on line 445 in file /home/mariaged/public_html/wp-content/plugins/page-flip-image-gallery/functions.class.php
Warning: getimagesize(): http:// wrapper is disabled in the server configuration by allow_url_fopen=0 on line 445 in file /home/mariaged/public_html/wp-content/plugins/page-flip-image-gallery/functions.class.php
Warning: getimagesize(http://stephane-lariviere.com/wp-content/pageflip/images/i_cpdNdF2unKo.jpg): failed to open stream: no suitable wrapper could be found on line 445 in file /home/mariaged/public_html/wp-content/plugins/page-flip-image-gallery/functions.class.php
Warning: getimagesize(): http:// wrapper is disabled in the server configuration by allow_url_fopen=0 on line 445 in file /home/mariaged/public_html/wp-content/plugins/page-flip-image-gallery/functions.class.php
Warning: getimagesize(http://stephane-lariviere.com/wp-content/pageflip/images/i_WRkwfLi.jpg): failed to open stream: no suitable wrapper could be found on line 445 in file /home/mariaged/public_html/wp-content/plugins/page-flip-image-gallery/functions.class.php
Warning: getimagesize(): http:// wrapper is disabled in the server configuration by allow_url_fopen=0 on line 445 in file /home/mariaged/public_html/wp-content/plugins/page-flip-image-gallery/functions.class.php
Warning: getimagesize(http://stephane-lariviere.com/wp-content/pageflip/images/i_8WcO2gCM4q.jpg): failed to open stream: no suitable wrapper could be found on line 445 in file /home/mariaged/public_html/wp-content/plugins/page-flip-image-gallery/functions.class.php
Photos de mariage à destination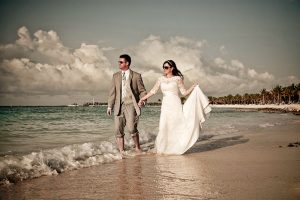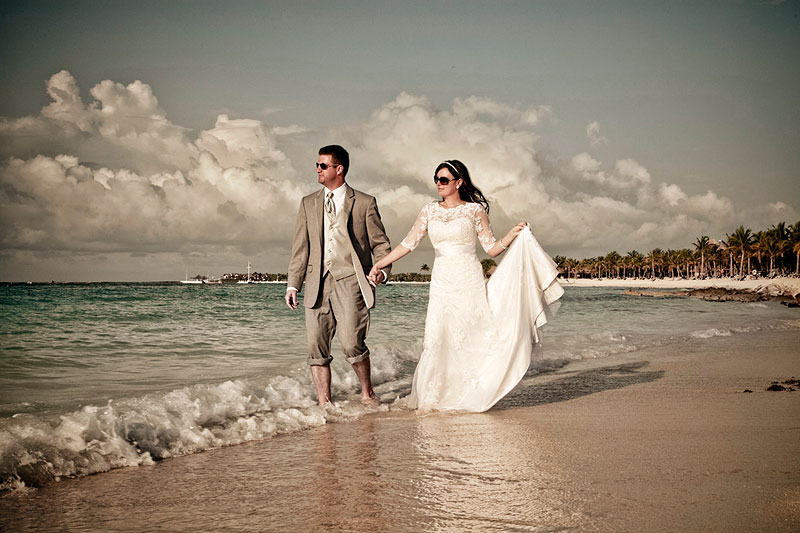 Il y a quelques mois de cela, j'ai reçu un courriel me demandant si je serais disponible pour photographier un mariage au Mexique.  Plus précisément au Barcelo Maya Palace Deluxe à Riviera Maya.  Après avoir vérifié mon horaire et aussi la disponibilité de mon assistante (mon épouse) tout était parfait, donc je pouvais participer à ce grand jour au bord de la plage!
Évidemment, avant de partir il y a plusieurs détails à vérifier; l'équipement qu'on apporte (parce que nous devons garder le tout en cabine et c'est limité), les passeports, les assurances, la gardienne pour les enfants et j'en passe… 😉
La veille du grand départ on termine les valises, il ne faut rien oublier parce qu'à notre arrivée ça fait loin pour revenir chercher ce qu'il pourrait manquer, donc on fait une liste!
Rendu à l'Hotel, il faut prendre le temps de faire du repérage sur le site pour ne pas perdre de temps à chercher lors de la prises des photos. En discutant avec les mariés, on identifie les endroits qu'ils préfèrent et on parle aussi des détails du déroulement de la journée du mariage et des options advenant un jour de pluie. Du fait que nous soyons présents toute la semaine, ça permet de planifier d'autres séances de photos les jours suivants le mariage. Que ce soit pour des photos au levé du soleil ou à son couché ou encore des photos de couples dans l'océan et du genre « trash the dress » sur la plage, tout est possible selon ce que les mariés souhaitent.  Même des photos sous-marines en tenues de mariage!  Durant la semaine, il est également possible (en supplément) de planifier des séances de photos de familles sur la plage pour les invités qui le désirent.
Au retour, le travail continu… il faut faire la sélection des clichés, les retouches, le DVD des épreuves, le montage des albums,  les cartes de remerciements, les impressions, les encadrements et tout le reste.
C'est une expérience incroyable de participer à un mariage dans les Tropiques!  Je vous invites à découvrir comment ça se passe dans le  petit clip ci-bas.
Making of photos de mariage dans le sud au Barcelo Maya Palace Deluxe à Riviera Maya au Mexique.avi
[ad#ad-13-voyage]
Vous prévoyez organiser votre mariage dans le sud?  Vous avez aimé ce que vous avez vu?  N'hésitez pas à nous contacter pour connaître comment nous pourrions être des vôtres!
Et ne vous gênez pas pour laisser un petit commentaire… 😉  Merci et au plaisir de créer vos souvenirs!
Dernière nouvelles!
L'album a été nommé album de mariage de l'année 2013 au Québec!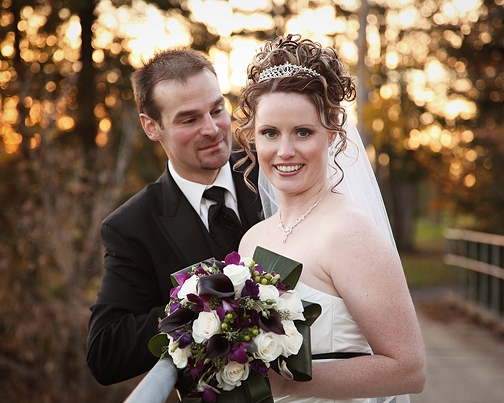 04
Mai
Comment choisir votre photographe de mariage en dix points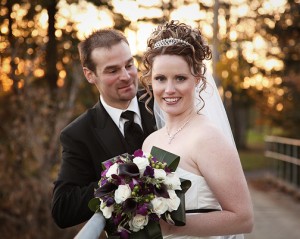 Depuis l'avènement de la technologie numérique, la démocratisation des logiciels et des appareils photo a parfois permis aux photographes amateurs et aux néophytes de créer des images presque aussi belles que les photographes professionnels.  Ce qui a favorisé l'éclosion de nombreux pseudo professionnels offrant leurs services à rabais pour photographier des mariages le week-end, sans avoir la plupart du temps suffisamment d'expérience ni d'expertise pour assurer au client un travail adéquat.  Ce n'est pas parce que quelqu'un possède le meilleur marteau qu'il devient pour autant un bon charpentier.
1. Le photographe amateur ou le photographe professionnel ?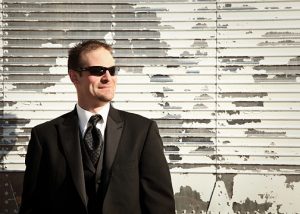 Un oncle ou un ami vous offrant leurs services photographiques en cadeau de noces à votre mariage peut sembler une offre difficile à refuser.  Pourtant, si  vous prenez la peine de faire affaire avec des experts pour votre réception,  pour les fleurs, pour votre robe et les tenues vestimentaires et le reste.   Il est tout à fait normal de considérer engager un photographe professionnel pour créer les souvenirs de votre grand jour.  Les conséquences d'un reportage photo réalisé par un de vos proches et qui serait en dessous de vos attentes pourraient être désastreuses… une déception face aux résultats ou encore l'absence de ceux-ci pourrait signifier une amitié ternie ou un malaise dans la famille.  Les souvenirs photographiques de votre mariage ne devraient-ils pas être à la hauteur de vos efforts de préparation de ce grand événement ?  Un ami photographe m'a déjà dit lors d'une conférence : « Ce n'est pas parce que quelqu'un possède le meilleur appareil photo « Nikon » qu'il est automatiquement un photographe, il n'est en fait que le propriétaire d'un appareil photo fabriqué par « Nikon »… j'avais trouvé cela plutôt vrai.
2. La personnalité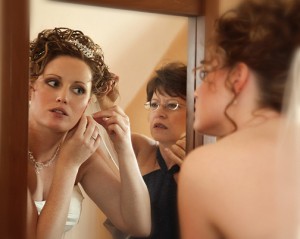 Dans la vie, on dit souvent qu'on a pas deux chances de faire une bonne première impression.  Et bien dans le choix de votre photographe de mariage cet adage est encore plus vrai.  Être à l'aise avec la personne qui partagera avec vous des moments de vie « intimes » est un facteur très important, pour le plaisir d'être photographié, mais aussi et surtout pour les résultats et de  ce que vous vous souviendrez de votre journée en regardant vos photos de mariage dans votre album.  Comment était votre photographe tout au long de votre journée et durant les démarches qui la précédait?  Était-il plaisant, sympathique, créatif, accompagnateur, relax, rassurant et débrouillard ?  Ou était-il plutôt nerveux, désagréable, stressant et mal préparé ?  Ce que vous vivrez en compagnie de votre photographe restera gravé dans votre mémoire et vous vous en souviendrez à chaque fois que vous regarderez vos photographies.  À  quel type de photographe préféreriez-vous faire confiance ?  Après tout votre mariage sera l'une des plus belles journées de votre vie… alors, pourquoi risquer un mauvais souvenir ?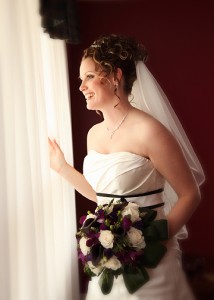 3. Le style
Lors de la rencontre d'information les images que vous verrez dans les albums démonstrateurs du photographe doivent parler d'elles-mêmes, elles doivent vous plaire.  Le style de photographie reportage est-il ce que vous recherchez ?  Préférez-vous un style plus conservateur ou placé ?  N'hésitez pas à en discuter avec le photographe, car parfois il est très probable qu'il puisse s'adapter à vos goûts ou vos suggestions.   Les meilleurs résultats viennent la plupart du temps de photographes qui se spécialisent dans un style particulier et qui savent s'adapter, ce qui veut dire qu'ils perfectionnent leur art constamment.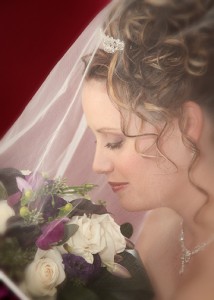 En discutant de vos goûts et attentes avec votre photographe vous lui permettrez de faire en sorte que votre album suscite l'admiration de tous et soit un investissement inestimable. Demandez à voir un album démonstrateur qui représente un mariage complet et pas seulement les meilleures images de plusieurs mariages.  De cette façon, vous serez en mesure de constater si le photographe est professionnel et constant pendant toute la durée d'un mariage.  N'oubliez pas, que votre mariage, lui, ne durera qu'une seule journée qu'il serait très décevant de recevoir un reportage photo incomplet ou de qualité inégale.
4. L'investissement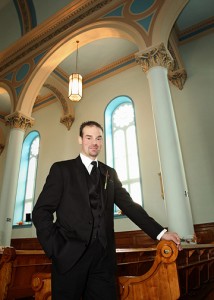 Au cours de vos recherches, vous constaterez certainement que les tarifs peuvent varier d'un photographe à l'autre, vous vous demanderez peut-être pourquoi.  Et bien, c'est en partie parce qu'il s'agit d'un travail d'artiste, de création spécifique et personnalisée et que selon la renommée, l'expérience, les reconnaissances de celui-ci, les tarifs peuvent être plus ou moins élevés .  D'autres facteurs peuvent influencer cela évidemment, mais la plupart du temps vous remarquerez que la qualité du travail se reflétera dans le prix.   Il est primordial de saisir que ce n'est pas nécessairement le coût de la matière première qui détermine les honoraires,  mais plutôt le temps d'exécution et le talent exclusif qui est mis à votre service.
5. Pour y voir clair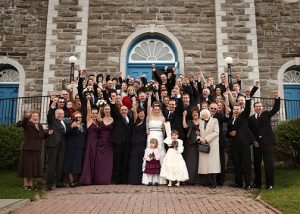 Afin d'obtenir une évaluation complète des services et des produits du photographe et du studio que vous souhaitez engager, une rencontre de quelques minutes est très importante.   Même si quelques informations préliminaires peuvent être transmises par courriel au début.  Le choix de votre photographe et la décision d'engager un ou l'autre ne peut pas ce faire à distance seulement.  La raison en est fort simple ;  vous ne pourrez pas adéquatement évaluer la qualité des produits et du service, le style,  de la personnalité de l'individu en y associant qu'un tarif transmit par téléphone ou courriel.   Le temps que vous passerez avec votre photographe lors de cette première rencontre (sans obligation d'achat) sera déterminant pour la suite.  Vous pourrez y discuter de vos attentes, du déroulement de la journée,  des différentes possibilités et du budget que vous aurez à déterminer.  Donc, prenez le temps de bien connaître votre photographe, ainsi vous pourrez savoir si sa personnalité et son entre gens vous conviennent.  D'ailleurs, il insistera certainement sur cette démarche, car il veut pouvoir saisir et bien comprendre vos besoins afin de vous offrir un produit adapté et personnalisé.
Achèteriez-vous votre robe sans l'avoir d'abord essayée ? Ou encore réserveriez-vous votre traiteur sans avoir « goûté » à ses recettes.  Il en va de même pour vos souvenirs…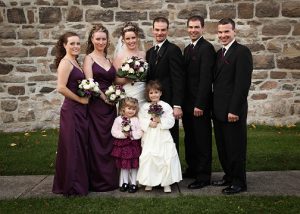 6. Quel montant investir ?
La réponse à cette question peut être très différente d'un couple à l'autre.  Puisque plusieurs facteurs peuvent influencer le budget total que vous pourriez investir pour vos photos de mariage, il est difficile de déterminer un montant précis à investir.  Cependant, au-delà de l'importance que vous rattachez aux souvenirs de votre grand jour, plusieurs publications spécialisées dans l'organisation de mariages s'entendent pour dire que les photographies créées par votre photographe professionnel doivent être une part importante du budget total de votre mariage puisqu'elles sont l'un des items (avec les alliances) qui vous resteront à jamais.   Il faut en déduire qu'il est bon d'investir un peu de temps afin de s'assurer du bon choix.
Un des facteurs décisionnels sera sans aucun doute le sentiment de confort et de confiance que vous aurez envers le photographe. Effectivement,  vous devrez vous y attendre, il y aura un tarif représentatif rattaché au niveau de qualité des photographies.  Par contre, il est bon de se souvenir que jamais un bas prix n'équivaudra à un haut niveau de qualité et que parfois mieux vaut investir un peu plus pour obtenir mieux que d'engager le professionnel le moins cher et risquer d'être déçu.
7. La qualité de produit fini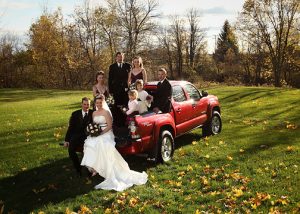 Vous constaterez qu'il y a souvent une très grande différence entre les épreuves et le produit fini. N'oubliez pas de vous informer à propos du travail de « retouche » qui sera effectué sur vos images.  Le simple fait de graver les images sur un DVD sans aucune altération, quoique parfois moins dispendieux, représente un service incomplet et constituera pour vous une charge de travail supplémentaire très importante, car vous devrez vous – même terminer la création de vos albums souvenirs.
Demandez au photographe de vous présenter des échantillons d'images retouchées comparées aux images originales de l'appareil photo.   Si le photographe n'est pas en mesure de le faire, questionnez-vous sérieusement sur le sérieux et les compétences de celui-ci.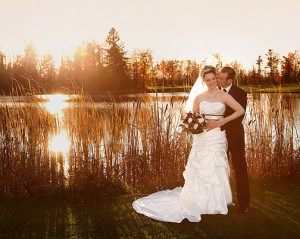 8. L'accompagnement offert
C'est là que vous verrez une autre différence importante quant à l'expérience et du niveau de professionnalisme du photographe professionnel.
Vous voyez-vous passer la journée avec cette personne et lui faire entièrement confiance afin qu'il puisse capter les meilleures images de votre mariage ?
Est-ce que cette personne se présente d'une manière professionnelle ? (Ex. : Langage, tenue vestimentaire, entre gens, etc.)
Avez-vous signé un contrat en bonne et due forme accompagné d'une garantie de satisfaction écrite du photographe ?  Quelles sont les clauses d'annulation et de remboursement ?
Le photographe a-t-il élaboré avec vous un plan de travail décrivant le déroulement de la journée et d'un plan « B » en cas d'imprévus ? (météo, défectuosité d'équipement, délai imprévu, etc.)
Les produits finis ; albums, montages, encadrements, etc. reflètent-ils ce que vous souhaitiez obtenir dès le départ ?
9.  Comment confirmer votre choix ?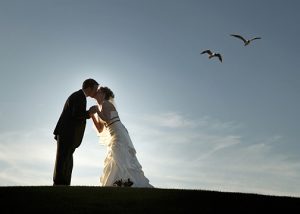 En regardant les albums démonstrateurs vous reconnaîtrez peut-être des gens,   informez-vous auprès d'eux…  Demandez s'il est possible de lire des témoignages de clients précédents. Si le photographe ne peut pas vous présenter de références ou des témoignages de satisfaction, doutez…   N'hésitez pas à vous informer de l'expérience de votre photographe ; Depuis combien d'années est-il professionnel ?  Combien de mariages a-t-il photographiés dans sa carrière ?  Fait-il partie d'associations professionnelles?  Suit-il des cours d'appoints ou des conférences sur une base régulière ?
10. Faites un choix éclairé
Votre album photo, vous le savez déjà, représente un des seuls éléments que vous achèterez qui restera après cette journée inoubliable.   Alors, à l'image de tous les autres détails de votre grand jour assurez-vous que vous vivrez une expérience exceptionnelle avec votre photographe de mariage.  Après tout, vous n'avez vous pas choisi le meilleur conjoint (e) ?  Donc, ne serait-il pas normal de dire que vous méritez aussi les meilleurs souvenirs de votre union ?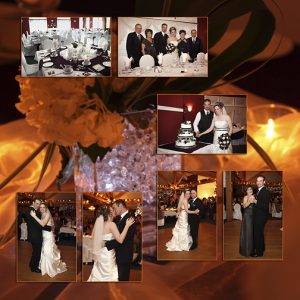 Le simple fait de lire cet article fait de vous une personne spéciale.  Quelqu'un qui attache de l'importance et de la valeur aux souvenirs,  pour vous et pour les générations qui vous suivront.  En fait,  qui vous distingue (et ce n'est pas donné à tout le monde), c'est la valeur que vous rattachez à votre patrimoine.
Vous prévoyez vous marier bientôt? Contactez-nous le plus tôt possible pour planifier vos souvenir et pour des photographies de mariages inoubliables!
Par courriel: [email protected] ou par  téléphone.: (450)451-5393
Vous avez apprécié cet article?  N'hésitez pas à vous joindre à notre liste d'envoi personnalisé.  Vous recevrez ainsi nos promotions exclusives et conseils pour des photos réussies!  Merci et à bientôt…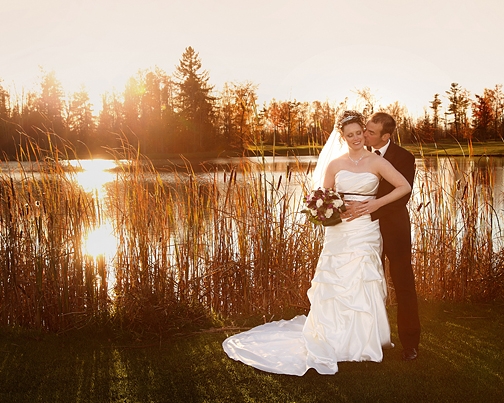 15
Avr
Votre photographe de mariage est-il choisi?
La saison de mariages de l'année en cours n'est même pas encore commencée, qu'il est déjà temps de penser aux étapes de réservations des mariages de l'an prochain.  Effectivement, comme plusieurs services sont nécessaires à la réussite de ce grand jour, il est important de penser à effectuer vos réservations le plus tôt possible afin de ne pas être pris au dépourvu ou encore d'avoir à modifier vos plans.
Déjà plusieurs salles de réceptions sont réservées pour les dates les plus populaires et d'autres professionnels comme les photographes, les DJ, les célébrants et les traiteurs commencent également à remplir leurs horaires de l'année suivante. Étant donné que votre photographe vous suit toute la journée , dès qu'il est réservé pour un mariage il ne peut plus accepter d'autres contrats… alors si vous avez un photographe professionnel précis dont vous aimeriez retenir les services ne tardez pas trop à le contacter, car vous pourriez être déçus.
De plus,  réserver d'avance vous permettra probablement d'éviter une hausse possible des tarifs des intervenants de votre mariage et ainsi vous pourrez économiser un peu et surtout répartir les paiements sur plusieurs mois.
Je vous présente un petit vidéo vous donnant un aperçu de ce que je peux accomplir comme photographe de mariage lors de votre grand jour.  Si vous souhaitez me rencontrer pour discuter de votre journée ou si vous avez des questions n'hésitez pas à me contacter.  Vous pouvez également prendre le temps de lire pourquoi vous devriez choisir le Studio Stéphane Larivière pour les photos de votre mariage ou événement.
Mariage de Catherine et Daniel
Au plaisir de créer de beaux souvenirs pour vous!
Pour des photos de mariage par un photographe professionnel compétent et expérimenté: (450) 451-5393 ou par courriel

24
Mai
Les photos de mariages de cet été sont commencées
Samedi dernier, le 22 mai 2010  en plein week-end de la fête des patriotes et du 4e match en série des Canadiens de Montréal,  j'ai eu le grand plaisir de débuter ma saison de photos de mariages 2010 avec un charmant couple, Lisa et Stéphane.  Je vous parle des séries éliminatoires de Hockey pour deux raisons, la première est parce que la cérémonie du mariage avait lieue en la Basilique Marie Reine du Monde en plein coeur du centre-ville de Montréal à deux pas du Centre Bell, où les Canadiens affrontaient les Flyers et deuxièment parce que le marié travail pour la LNH.
Je dois vous avouer que j'anticipais une journée plutôt difficile pour ce qui est de la circulation et du stationnement… mais surprise tout s'est très bien déroulé!  Il n'y a même pas eu de retard sur l'horaire… 😉
Après leurs préparatifs, les mariés se sont rendus à l'église dans leurs limousines respectives en compagnie de leurs demoiselles d'honneurs, garçons d'honneurs et des membres leurs familles.  Après la cérémonie, la réception avait lieue au prestigieux Château Vaudreuil.
Je ne vous raconterai pas toute la journée, mais je vous laisse le plaisir de visionner quelques images tirées de cette super belle journée en compagnie d'un merveilleux couple de nouveaux mariés!
Et cette première journée de photographie de mariage n'est que le début d'une belle saison et d'autres belles images d'amour sont à venir dans les prochains mois!   Si vous aimeriez en savoir d'avantage sur nos services, n'hésitez pas à communiquer avec nous: (450) 451-5393.  Au plaisir!